Automate The Loan Life Cycle To Improve Profitability, Corporate Governance And Agility
Union solutions can be combined to automate the end-to-end process of loan origination, credit validation, disbursement, servicing and portfolio management.
This allows loans to be originated 24/7/365 and processed cost effectively with low operational risk. Digitisation creates better data for decision making and makes it easy to launch, scale and adapt your business.

1. Origination
Create an engaging website customised for the specific requirement using Union.digital. Add calculators and visuals to make it easy for clients to understand and apply, building trust and accelerating the sales cycle. Credit providers can also offer their products via Retailers using our Partner Portal solution.  
  2. Validation
Create a scoring model in Union.score from the drag and drop menu, choosing which internal and external data is to be included and it's relative weighting.
When a loan application is received Union.score automatically collects data from internal and external systems in real-time to create a total score. If the score is above/below the required level it is automatically approved/declined. For marginal scores it is possible to restructure the loan, request security or payment insurance.  
  3. Approval
All applications simultaneously create a client record in Union.core. For approved deals the system will automatically issue a pre-loaded term sheet showing the key terms and payment schedule. If the client accepts these terms a pre-loaded loan agreement is issued to be signed using a Digital ID or in person. For declined or marginal deals the client will receive a polite message via the website, email or SMS.  
  4. Disbursement
For countries with Digital ID the loan will be disbursed automatically and in real-time to the nominated account when the client signs digitally. In all other countries, or if the financial service provider prefers, funds are disbursed only after a loan or compliance officer approves this action.  
  5. Servicing
Union.core will automatically calculate and apply all relevant fees and interest based on the contract signed by the client. Clients receive regular statements and reminders by email, letter or SMS 14 days prior to a repayment event.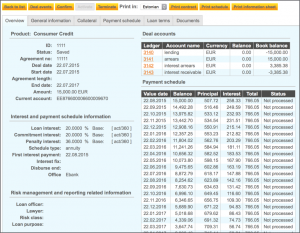 6. Portfolio Management
Management receive real-time information on the portfolio including applications, approvals and non-performing loans. On an individual loan they receive granular information including the credit score, collateral, which payments on the schedule have been processed, etc.
When a repayment is received union.core will automatically update the relevant client record, debit/credit the general ledger and send the client a confirmation message. For missed or late payments the system will automatically apply penalty interest and fees, update all records and message both the client and loan officer.
As union.core is real-time and each transaction receives a unique identifier the accounts are always accurate and compliant to IFRS requirements. Manual book entries are also possible. Clients can build a hierarchy based on their legal structure and analyse on an entity and consolidated Enterprise basis.
It is possible to receive real-time performance data on an entity or Enterprise basis via the Management Dashboard or to receive daily reports on activity, NPL's, financial accounts, etc.  
  Key Benefits
Deeper Client Relationships
Deliver a consistent service across all channels » Ensure clients receive the right product at the right time and price » Do more with your valued clients.
Corporate Agility
Customise to your exact need, scale quickly and adapt easily » Accelerate the speed you make decisions and bring products and campaigns to market » Create deep insights on clients and performance.
Corporate Governance
Automate analysis and integrate contracts to reduce operational risk » Make better decisions using real-time data » Originate clients and transactions in an auditable framework.
Loan Automation has been used by Finora Capital to grow their business, see the Case Study for more.
If you would like to learn more about how we can assist you