Digital Core
Supports all key delivery channels, transactions and processes required to run a financial services business efficiently in real-time.
Union.core is a modular solution which includes customer records and messaging, document management, product configuration, transaction processing, payments, reporting and general ledger accounting. For a full overview see here.
Union.core helps financial service providers improve market reach and service quality, increase profitability through process efficiency and improve corporate governance by providing a standard approach and deep insights.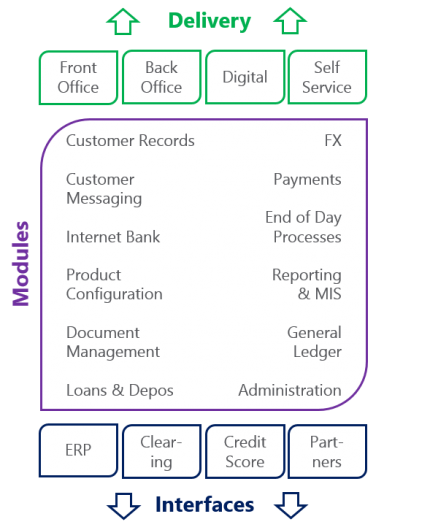 Key features include:
---
Universal  Standard approach across all entities and countries
Multi-channel  Deliver a consistent service 24/7/365 across all channels
Digital  Automate transactions, processes, accounting and reporting
Client Centric  Everything is related to the client, improving KYC and profitability analysis
Real-time  Applications work simultaneously and in real-time
Open  Interface securely with internal and external systems
Modular  Pay only for what you require
Agile  Customise to your need, scale quickly, adapt easily

---
Union.core is universal, meaning it can be delivered on a multi entity, currency and language basis. This allows you to customise for local operations whilst having the ability to manage data, products and processes centrally. Reporting and accounting is available on an individual entity and consolidated Enterprise basis.
Union.core is multi-channel, meaning it can be implemented in Digital channels, branches, shared service centres and through partners. The Internet Bank module also allows clients to self-service and request new products. This ensures a quality, consistent service 24/7/365 across all channels.
As a digitally enabled solution Union.core is extremely powerful. The architecture is modular, meaning you pay only for what you require. The architecture is agile, it is easy to interface with other systems and add new features and products as your business grows. It is possible to automate end-to-end processes which occur in real-time, ensuring accuracy of client and Enterprise data
Union.core is client centric, meaning that data, documents and transactions are always referenced to the client. This makes it easy to identify relationships, in turn improving KYC and profitability analysis. As each client record and transaction also receive a unique identity it is possible report and account on an entity and consolidated Enterprise basis, no silos!
Union.core can be installed on your enterprise architecture or delivered as a managed service. Configuration is easy and full implementation and training support ensure your organisation becomes an effective user quickly.
Union.core has delivered deeper client relationships, higher profitability and corporate governance to established Financial Institutions and Start-up specialists, see the links below for more.